Across the population, energy levels are a growing concern, given that fatigue has become the most common complaint among patients seeking general medical care.1,2 From a functional medicine perspective, there are many key areas to assess and address when it comes to fatigue, whether it is due to poor nutrition and lifestyle habits, excessive toxin burden, or chronic infections. This raises the question: What tools can be readily implemented to support overall health and vitality to improve energy levels?
Leveraging Functional Mushrooms for Fatigue
Many studies have shown that edible and medicinal mushrooms have antifatigue properties.3 These mushrooms most likely reduce fatigue through effects on the musculoskeletal, cardiovascular, hormone and immune systems. Numerous bioactive constituents may contribute to the antifatigue effects of mushrooms, including polysaccharides, peptides, nucleosides, phenolic compounds and triterpenoids.3
The Mighty Cordyceps
Even those who are new to the field of functional mushrooms no doubt have a cursory familiarity with the mysterious Cordyceps mushroom. Used in Traditional Chinese Medicine as a Yin nourisher and Yang invigorating medicine, Cordyceps has been used to treat an assortment of conditions, including fatigue, erectile dysfunction, and respiratory and kidney diseases.4
The main constituent of these mushrooms is the nucleoside molecule cordycepin, which is found in higher concentrations in the cultivated Cordyceps militaris mushroom compared to the parasitic caterpillar fungus Cordyceps sinensis.4,5 Numerous clinical studies show Cordyceps mushrooms improve performance by increasing blood flow, boosting ATP synthesis for more natural energy, and acting as a potent antioxidant to decrease oxidative stress and fatigue.6,7
Reishi: The Mushroom of Immortality
Reishi mushroom is one of the most widely used mushrooms in the world with a 2,000-year-long history of use in Traditional Chinese Medicine, and it is referred to as ling zhi, or the "mushroom of immortality."8
A randomized, double-blind, placebo-controlled parallel study aimed to investigate the safety and efficacy of a polysaccharide extract of reishi (Ganoderma lucidum) in 132 patients with neurasthenia. Patients were assessed using the Clinical Global Impression (CGI) improvement of severity scale and the Visual Analogue Scale (VAS) for their sense of fatigue and well-being. Those patients who received the mushroom extract treatment for eight weeks had significantly lower scores in the CGI severity score and sense of fatigue, with a respective reduction of 15.5% and 28.3% from baseline.9
Another placebo-controlled study was done to evaluate the impact of reishi extract on fatigue and quality of life in patients with chronic fatigue syndrome. Compared to the placebo group, those who received reishi extracts were observed to have a significant increase in quality of life and a decrease in VAS scores four weeks after the first dose. Volunteer satisfaction in the reishi extract group was significantly higher than those in the placebo group after 12 weeks.10
The Bottom Line
With more people than ever presenting with complaints of fatigue, it is important to find a strategy that can be safely and effectively implemented, especially over the long term. Mushrooms have been consumed as a functional food for millennia due to their diverse health-promoting effects across numerous systems—from the microbiome to the liver and immune system.
With many stealth infections, such as EBV and HHV-6, often at the root of chronic fatigue, the broad microbe-balancing and immune-modulating effects of mushrooms like reishi and Cordyceps are a welcome option to help address the root cause while offering improvements in energy levels.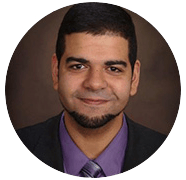 Kareem Kandil, MD, ND
is the Immune Foundations Clinical Brand Manager at Lifestyle Matrix Resource Center. Upon graduating from medical school at Ross University School of Medicine, Dr. Kandil went on to do an observership in integrative medicine and then pursued his Doctorate of Naturopathic Medicine (ND) at National University of Health Sciences in Lombard, IL.
References
1. Morrison JD. Fatigue as a presenting complaint in family practice. J. Family Pract. 1980; 10:795-801.
2. Kroenke K, Wood DR, Mangelsdorff AD, Meier NJ, Powell JB. Chronic fatigue in primary care. Prevalence, patient characteristics, and outcome. JAMA 1988; 260: 929-934.
3. Geng P, Siu KC, Wang Z, Wu JY. Antifatigue Functions and Mechanisms of Edible and Medicinal Mushrooms. Biomed Res Int. 2017. doi: 10.1155/2017/9648496.
4. Zhou X, Luo L, Dressel W, et al. Cordycepin is an immunoregulatory active ingredient of Cordyceps sinensis. Am J Chin Med. 2008;36(5):967-980. doi:10.1142/S0192415X08006387
5. Kim HO, Yun JW. A comparative study on the production of exopolysaccharides between two entomopathogenic fungi Cordyceps militaris and Cordyceps sinensis in submerged mycelial cultures. J Appl Microbiol. 2005;99(4):728-738. doi:10.1111/j.1365-2672.2005.02682.x
6. Hirsch KR, Smith-Ryan AE, Roelofs EJ, Trexler ET, Mock MG. Cordyceps militaris Improves Tolerance to High-Intensity Exercise After Acute and Chronic Supplementation. J Diet Suppl. 2017;14(1):42-53. doi:10.1080/19390211.2016.1203386
7. Song J, Wang Y, Teng M, et al. Studies on the Antifatigue Activities of Cordyceps militaris Fruit Body Extract in Mouse Model. Evid Based Complement Alternat Med. 2015;2015:174616. doi:10.1155/2015/174616
8. Yuen JW, Gohel MD. Anticancer effects of Ganoderma lucidum: a review of scientific evidence. Nutr Cancer. 2005;53(1):11-17. doi:10.1207/s15327914nc5301_2
9. Tang W, Gao Y, Chen G, Gao H, Dai X, Ye J, Chan E, Huang M, Zhou S. A randomized, double-blind and placebo-controlled study of a Ganoderma lucidum polysaccharide extract in neurasthenia. J Med Food. 2005 Spring;8(1):53-8. doi: 10.1089/jmf.2005.8.53. PMID: 15857210.
10. Soksawatmakhin S, Boonyahotra W. Preliminary study of the applications of Ganoderma lucidum in chronic fatigue syndrome. JAASP. 2013, vol. 2:262-268. https://www.aaspjournal.org/uploads/155/5940_pdf.pdf